About Marburg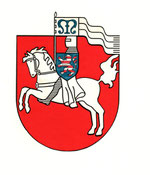 Marburg – a university city with 800 years of history, an old town full of narrow, winding streets between the river Lahn and the castle, the flair of a university and what is more, surrounded by beautiful countryside!
Marburg is a youthful city with a long tradition and thriving businesses, and thus offers a high quality of life. It is a safe city where everything is near at hand, attractive to both young and old alike.
Marburg is situated about 90 km north of the metropolis of Frankfurt and its more than 70,000 residents make it a major city of central Hesse. Thanks to its central location, Marburg can be reached quickly and easily from anywhere in Germany.
Its roughly 20,000 students from more than 81 countries definitely leave their mark on Marburg's multifaceted lifestyles. A university and a city of importance in history, mixed with new, modern elements of our day and age.
History, culture, science and a unique ambience make Marburg especially attractive to tourists: from the Church of St. Elisabeth to the consummately refurbished old town up to the Landgrave Castle sitting on 1000-year-old foundations high above the roofs of the city.
We are delighted at every guest who comes to our town and would like to say to them:
welcome!

More information can be found in the city guide "Marburg auf einen Blick", which can be downloaded here free of charge as a PDF file.
Marburg at a galance
A compact city guide with a map of the city centre, a general map and description of places of interest, leisure time activities, museums and much more.
MTM_MaeB_2014_GB_web.pdf
Adobe Acrobat Dokument
5.9 MB