Atmosonic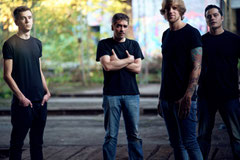 Honestly, fat and directly!
ATMOSONIC will infect your ears and win hearts! 
4 musicians from Hessen inject her authentic own sound which balances rock, directly in your sonars bloodstream between alternative, punk and Stoner. The addiction potential is extremely high! The tape which plays together since Indian summer in 2014 hits to you live a right board before the bug. The genre-covering repertoire of own English-speaking songs unites the most different influence the volume. In spring, 2015 the tape published her first songs and put the first unmistakeably grooving scent mark in the auditory canal universe of every listener.
Feel Atmosonic!
In the web:
www.atmosonic.de
facebook.com/atmosonicband
Music:
atmosonic.de/music
soundcloud.com/atmosonic-band