Fulltime Job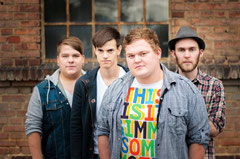 "With this midge I would clear off best again the skateboard under the feet and in them the next Pipe rock", fans describe the volume of JOB FULLTIME.
FULLTIME JOB itself calls itself young, cracked and merry. With her powerful, tunefully done alternative / rock the tape inspires the audience.
Four tape members from Central Hessen take seriously their work as a musician very much – they always develop and her songs. The music has become more mature and more profound with the time. Pop, rock to Metaleinflüsse stamp the songs by which a certain variety arises in her music.
In autumn, 2014 the tape published her EP with three songs and plays the first tour. Nevertheless, in spite of different influence a basic character remains always available. Easy to remember melodies, the variety of the songs, texts with those one can identify, packs in a melancholy mood these are which put out the music of FULLTIME JOB.
After a live show the tape leaves the tracks of a crashing, dynamic performance which allow to fall into oblivion the grey everyday life. Not free of charge it hits the drummer word for word regularly from the stool.
In summer, 2011 the tape took part in "Talent Development" of the Cubeaudio recording studio in Goettingen. With producer Markus Gumball, among the rest, already with guano Apes or in Flames worked, they produced a CD of the superlatives and took up this professionally.
In the web:
www.fulltimejobmusic.de