Eisenach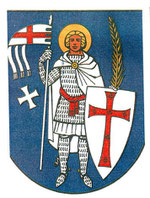 Country: West Germany / Thuringia
Population: 42 750
History
Marburg and Eisenach are two closely related German cities. Both are connect by a history that is similar and yet different, as well. St. Elizabeth of Thuringia was hounded out of Wartburg castle in 1227 and fled to Marburg to live out her widowhood. Luther translated the New Testament in the Wartburg in 1521-22 and a few years later, in 1529, he met with Zwingli and others at the famous Marburg Colloquy. The creation of East and West Germany at the end of World War II separated their histories up to the 1980s. Eisenach and Marburg were among the first cities twinned between East and West. The Berlin Wall fell one year later, allowing Eisenach and Marburg to share the same history once again.
Attractions
The houses of Luther and Bach, and the Reuter-Wagner Museum. Eisenach has been a home to many people who were famous in their time. The historic city centre is also ideal for taking a stroll and pausing in a cafe on the square in front of City Hall. Eisenach's Wartburg Castle has been named a World Heritage Site by UNESCO. There you will also find the room where Luther is said to have thrown an inkwell against the wall. Each year, Eisenach holds Germany's largest spring festival, the "Sommergewinn", at the end of which Lady Sunnah (the sun) drives the winter away.
Economy
The automotive industry in Eisenach goes back 100 years. East Germany's popular "Wartburg" model was built here in the days of the GDR. After the fall of the Wall, many internationally renowned companies settled nearby, such as Opel, Bosch, and BMW Eisenach. Not only is Eisenach attractive to an increasing number of tourists from all over the world every year, but the district-free city and the surrounding Wartburg District also make up the strongest economic region of Thuringia. Nearly one-fifth of total industrial production in the Free State of Thuringia comes from the Wartburg Region.